COVER STORY, FEBRUARY 2009
TRENDS IN GREEN BUILDING
Three Texas firms highlight what they see as key trends in sustainable development.
By Lindsey Walker Marcec
The United States Green Building Council estimates that green building, on average, reduces energy use by 30 percent, carbon emissions by 35 percent, water use by 30 to 50 percent, and generates waste cost savings of 50 to 90 percent, according to a 2008 Commission for Environment Cooperation (CEC) report on green building in North America. In the past, organizations have been scared off by the considerable costs involved with going green — even knowing that they would save money in the long run by drastically reducing their buildings' energy, emissions and water usage. However, today's studies show that the cost premium to deliver sustainable properties to the market has declined considerably in recent years, according to the CEC report. The government also is working hard to overcome other obstacles that are keeping companies from investing in sustainable building through new building codes, zoning regulations and tax-based incentives, to name a few. With this in mind, Texas Real Estate Business is featuring three green trends that will continue to make sustainable building an attractive and viable option, as seen through the eyes of three architecture and construction firms based in Texas.
Sustainable Mission Critical Facilities
One design trend that is important to future commercial real estate involves a broad-based comprehensive sustainable approach to building design, encompassing site preservation, water conservation, energy optimization, material resources and interior air quality improvements. At Corgan Associates, a Dallas-based international architectural firm, each green project begins with this comprehensive, analytical approach, which forges a design concept specific to each project. As demonstrated by the firm's LEED Silver-certified corporate headquarters, Corgan is deeply committed to sustainable design and has incorporated these principles across numerous industries, including airports, performance halls, office buildings, existing buildings and corporate interiors.
One niche in particular that has evolved in green design involves sustainable mission critical facilities. Due to the increasing exponential expansion of these buildings, the greening of mission critical facilities will be a trend to watch in the commercial real estate landscape for 2009. Successfully integrating environmentally responsible design in these highly secure facilities will require time and evaluation to ensure all solutions work in concert with intended building and equipment functionality. It is imperative to ensure these green solutions do not jeopardize facility operations that keep billions of dollars worth of businesses online.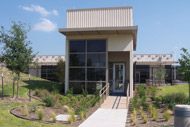 One such development from Corgan's palette of sustainable projects that successfully integrated this green design trend is the recently awarded USGBC LEED Gold-certified Lonestar Data Center project, which is located in the heart of Central Texas. According to the Central Texas USGBC Chapter, this building is the first fully dedicated mission critical facility in the world that has received such a prestigious designation. Within the 300,000-square-foot facility, Corgan employed many comprehensive sustainable design solutions to earn this industry certification.
Specifically, Corgan incorporated high percentages of recycled and regional material content, implemented sophisticated technological energy controls to optimize and manage building energy resources, reduced projected building energy consumption levels approximately 20 percent, included heat recovery and building economizer systems, used high-efficiency equipment drive systems, and included an energy-efficient cool roofing system. Additionally, the building design implemented a best practice storm water site run-off reduction system, improved site water quality, integrated heat island reducing building materials, increased open space requirements approximately 20 percent over local zoning levels, provided light pollution reducing site lighting fixtures, incorporated indigenous landscaping that reduces site water consumption more than 50 percent, included ultra water conserving interior plumbing fixtures that saves approximately 40 percent annual water consumption, utilized low VOC materials, incorporated an advanced enhanced commissioning process, increased interior fresh air ventilation rates, provided increased controllability to building occupants; and diverted more than 75 percent of the construction waste from landfills.
Owners should consider incorporating this broad-based approach when designing their next mission critical facilities, as green design will become increasingly important once jurisdictions begin to implement additional energy consumption, site preservation and water conservation policies.
— R. Kirk Johnson, AIA, LEED AP, is project manager with Corgan Associates in Dallas.
Energy Management Systems
Despite the fact that the Associated General Contractors of America predicts construction spending nationwide will drop an additional 1 to 7 percent in 2009, demand for sustainable design features that reduce building operating costs remains strong in the commercial market. Energy management systems are quite popular since they help companies reduce pressure on the power grid and cut energy costs from lighting and heating, ventilation and air conditioning (HVAC) systems in the building. Even if companies decide not to pursue LEED certification for their buildings, which can be a costly and time-consuming process, installing an automated Energy Management System requires a relatively small upfront investment, yet pays off substantially in the long run. Additionally, what makes this green feature attractive to businesses is the federal tax incentive: energy-efficient companies can deduct up to $1.80 per square foot of their building. Signed into law in 2005, the Energy Policy Act allows businesses to take a one-time tax deduction of 60 cents per square foot for installing energy-efficient lighting and HVAC controls systems.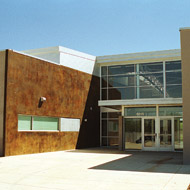 The Omniplan-designed International Environmental Training and Technology Center (IETTC), a LEED-certified waste-management training facility and landfill learning lab in southeast Dallas, provides a useful example of an energy management system at work. The key sustainable features in the 20,000-square-foot IETTC building include optimal solar orientation, xeriscaping, recyclable structural systems, natural ventilation, daylighting, solar shading on the east and west sides, and reflective roofing. The structure was designed to achieve an energy-efficiency performance that exceeded code-mandated performance by 55 percent. This was accomplished with a complete Direct Digital Control (DDC) energy management system.
"The system automatically monitors outside and inside CO2 levels and adjusts fresh air quantities up or down to maintain indoor air quality and minimize system total cooling," explains Cheryl Baylie, P.E., principal of G&S Consulting Engineers, which served as mechanical, electric and plumbing consultants for the IETTC building. "It also monitors occupied and unoccupied space conditions and sets back room temperatures to minimize air conditioning of unoccupied spaces."
The main operator workstation is installed in the administration area, allowing local operators to make adjustments to the system set points on an as-needed basis, and to tailor the building operational schedules to suit the wide variety of building occupancy and uses. The system helped IETTC reduce approximately 25 percent of its energy costs in the first year.
As demonstrated by the IETTC building, the sustainable movement's present momentum has already motivated companies throughout Texas to reduce energy consumption for environmental reasons, and the current economic climate may provide them with even more incentive to decrease operating costs with green features like energy management systems. After all, companies with lower costs usually come out on top — especially in times of economic uncertainty.
— Tipton Housewright, AIA, LEED AP, is a principal with Omniplan in the firm's Dallas office.
Permanent Modular Construction
As a construction management company with many years of experience, Warrior Group knows first-hand the positive impact that permanent modular construction can make in the real estate development industry — especially in terms of delivering green.
Permanent modular construction is done using the Parallel Construction process, where both on-and off-site work are performed simultaneously, instead of sequentially as is done in conventional site-built construction. There are many steps in this unique building process that make permanent modular construction LEED certifiable at several levels.
First, the sectional units are manufactured in a factory-controlled environment, allowing units to remain clean and dry, eliminating the potential for high levels of mold and contaminants. Also, remnants of recyclable products from carpet to wood that are used in the process are recycled, not left at the construction site. This dramatically decreases the amount of waste dumped in landfills.
Permanent modular construction also lessens carbon emissions and noise pollution at the construction site, because the units arrive pre-constructed and ready to be installed. The number of vehicles and heavy equipment needed at the site is reduced.
The permanent modular process also offers increased safety, as there is less building time and reduced on-site labor resources involved. Because workers are assigned to a work station within a factory-controlled setting, they are not working in temperature extremes, rain, wind, or any combination of natural conditions, as many do while working on a construction site.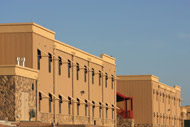 The option to pursue LEED certification is inherent in the permanent modular construction process. All of Warrior's projects incorporate these green qualities. Despite sustainable advantages, Warrior Group has worked hard to overcome design misperceptions about permanent modular construction. It does not limit buildings to one-story boxes. Fort Bliss Permanent Modular Barracks in El Paso and Fort Sam Houston Military Residences located in San Antonio are two of Warrior's projects in Texas that incorporate many green features and are built more like condominiums than dormitories.
The Fort Bliss project included 500,000 square feet of housing for troops. In only 7 months, Warrior set 11 buildings, each containing small apartments with private sleeping rooms and shared kitchen and bath units for two troops per unit. In San Antonio, the Fort Sam Houston project featured two, four-story complexes totaling 502,000 square feet that met the U. S. Army Corps of Engineers' Antiterrorist Force Protection requirements, including progressive collapse features. The four-story buildings are uniquely designed, reminiscent of high-end condos in the shape of the letter "E" to offer idyllic views from windows and showcase attractive courtyard areas.
Permanent modular construction is a new way of green that will continue to evolve and impact building design. This method is becoming increasingly popular as builders learn the significant advantages of permanent modular construction, such as a shortened construction timeline by one-third, the ability to meet accelerated deadlines, reduced labor resources, and increased safety and sustainability.
— Gail Warrior-Lawrence is president and CEO of Warrior Group, Inc. in DeSoto, Texas.

©2009 France Publications, Inc. Duplication or reproduction of this article not permitted without authorization from France Publications, Inc. For information on reprints of this article contact Barbara Sherer at (630) 554-6054.