COVER STORY, OCTOBER 2006
TEXAS RETAIL ROUNDTABLE
Lenders, brokers and developers discuss retail trends throughout Texas' major markets.
Interviews by Stephen O'Kane
The state of Texas is seeing a movement toward mixed-use and lifestyle developments, both of which offer convenience to the retailer and the consumer. Texas Real Estate Business interviewed brokers, developers and lenders across the state to discuss the current retail trends.
Interviewees included: Dan Watson, Archon Group; Keith Van Arsdale, BMC Capital; Burk Collins, Burk Collins & Co.; Larry Eisenberg, Grubb & Ellis; Paul Gardaphe, iCap Realty Advisors; Larry Levine, Levcor; Jerry D. Goldstein, Marcus & Millichap; Sherry Sanchez, NAI Commercial Industrial Properties Co.; William Jackson, NorthMarq; Edward Page, Page & Partners; Anthony Tarantino, Tarantino Properties; Jim Lemos, Texas Realty Capital; Herbert D. Weitzman, The Weitzman Group and Cencor Realty Services; Eric DeJernett, Trammell Crow Co.; Kevin Roberts, Transwestern Commercial Services; Darrell Hernandez, United Commercial Realty; and Peter Jacob, Weaver Davis & Jacob Realty Group.
TREB: Can you give me an overview of the Texas retail market?
Watson: The Texas market benefits from the strong population growth, driven by migration and strong birth rates. These trends are forecasted to continue providing the state with significant opportunities in new growth suburban areas. Increasing consumer debt and energy-related costs put downward pressure on the sustainability of the recent strong retail sales performances of most retailers. Consequently, and combined with significant increases in the costs of building materials, the market requires a flattening of land costs, increased public incentives and continued increase in retailer occupancy costs. The valuation of land for future (2 to 5 years) potential retail development is priced at current development prices. This condition is unsustainable and will result in quality development sites being overpriced or out of play.
Levine: We have a lot of new developers coming to Texas because it's one of the few markets that still has opportunity. San Antonio, Dallas, Houston, Austin — they are all hot right now. However, I do see it slowing down a bit. We've been in Houston for 35 years and we know that there are peaks and valleys, and it's going to have to slow down sometime.
Eisenberg: In Austin, the retail market is very vibrant and has seen tremendous growth within the past year. The retail market continues to respond to the growth in population and housing, which can be seen with the number of new centers recently announced. Retailers are flocking to the area, including new retailers and restaurant users. Ground leases are now the norm, since owners/developers are not selling pads like in the past few years, desiring to keep the real estate and ground lease for 15 to 25 year primary terms.
DeJernett: The Austin retail market continues to grow exponentially with new projects coming on line at a very rapid pace. A number of major projects currently in development with delivery dates within the next 18 months include IKEA, Target and HEB Plus!. Each of the larger big box-anchored retail centers provide for supporting uses, which continues the growth of retail development in this area.
Weitzman: Dallas/Fort Worth's retail real estate market continues to grow, with major activity being seen throughout the metropolitan area. Growth is being seen not only in new-growth suburban markets but in largely built-out close-in markets as well.
Continued growth is the result of ongoing demand for new or redeveloped space from a wide array of new and expanding retailers.
Hernandez: Overall, the Dallas/Fort Worth retail market has been very healthy with a significant number of planned retail developments. Residential growth has been solid, job growth has been solid, thus the retail market has continued to grow and retailers continue to do planned stores and grow their market base.
Tarantino: The overall Houston retail market at the end of second quarter 2006 stood at 85.67 percent occupied with a positive absorption of 342,899 square feet. With approximately 8.51 million square feet of new construction underway and approximately 10.31 million square feet of proposed construction in the works, we expect to see continued positive absorption of vacant retail space as single-family housing starts are anticipated to reach 50,000 before year end, along with the anticipated addition of 70,000 new jobs coming on the market in the greater Houston metro area.
Goldstein: The Houston market has been responding positively after a string of years of annual population growth of more than 2 percent that has spurred exponential housing growth in its suburbs. Now unabated, Houston continues to enjoy monthly increases in home sales including an expanding market for new homes. After adding 76,000 jobs in 2005, Houston employers are projected to add another 43,000 jobs. National retailers have responded by continuing to seek saturation of their coverage of the metropolitan area.
Roberts: In San Antonio, retail is the preferred product type among developers. Retail construction activity through the first half of the year topped 1 million square feet. New leases and expansions signed in the second quarter yielded 194,563 square feet of positive net absorption. Year-to-date, the market absorbed more than 256,000 square feet of retail space.
TREB: What trends do you see presently in retail development in Texas?
Watson: More and more we are seeing a preference in consumers for a mixed-use, more urban project. Even large power centers are adding a lifestyle or mixed-use component to their design, whether it is a town center piece or a theater. Gas prices are high and consumers are more interested in a one-stop shopping experience where they can drive to one location and shop, eat and play.
DeJernett: There are several noticeable trends taking place in Central Texas. Specifically, several very large projects are currently underway or have recently opened including Wolf Ranch in Georgetown; Chelsea Premium Outlets in Round Rock; the Domain in north Austin; and Southpark Meadows in south Austin. Another interesting trend we are beginning to see in several new projects is the desire to incorporate green and sustainable components. Escarpment Village with an HEB anchor, developed by Stratus and TCC in south Austin, and the Mueller Airport redevelopment by Catellus in east Austin, are notable projects in this category. The urban core of Austin is also very active with new and proposed mixed-used developments including infill and transit-oriented development.
Eisenberg: As construction has increased in the Austin area, several developers are banking on the popularity of lifestyle, mixed-use projects with two- to three-stories of residential above retail on the first level. The best examples include Domain, Domain Crossing and Hill Country Galleria.
Sanchez: The trend in Austin during the past year or so has been to concentrate retail development into a few large power centers or lifestyle centers rather than smaller projects. A few examples include Southpark Meadows, 1890 Ranch, The Shops at Arbor Trail, The Triangle, The 2nd Street District and The Domain.
Hernandez: There continues to be the large box developments anchored by either Wal-Mart SuperCenter, Super Target, Lowe's Home Improvement Warehouse, The Home Depot and the junior anchors associated with those. As far as trends happening in a few of the Dallas/Fort Worth markets, there are multiple projects working to create more of a mixed-use environment; not only in creating office and multifamily as a part of the retail, but also combining big box retail developments along with the lifestyle retail centers all in one environment.
The other trend presently occurring is that there are a number of urban redevelopments in the Metroplex — Museum Place in Fort Worth, Park Lane east of NorthPark Mall, the Victory Project in Uptown as well as continued redevelopment plans for Main Street in downtown Dallas.
Weitzman: Several of our new projects are mixed-use projects, which combine retail with residential and/or office space. Many of the new projects, including the mixed-use projects, are lifestyle centers, featuring a mix of soft goods and specialty retailers designed to appeal to an upscale casual lifestyle. While these complicated projects can't go everywhere, they are finding great acceptance in key affluent submarkets throughout Dallas/Fort Worth.
In addition, some of the projects are community-type centers, which generate strong traffic by meeting day-to-day needs of a trade area. The Wal-Mart SuperCenter projects, by offering Wal-Mart's full-scale concept with groceries, fall in this category.
We're also seeing renovations, which is testimony to the strength of existing retail space. Major renovations under way in the market include NorthPark Center mall, one of Dallas/Fort Worth's oldest malls that opened in 1965. This year, the mall completed a major renovation and expansion that brought it to a total of 2 million square feet, making it one of the largest malls in Texas. The renovation and expansion added a strong line-up of retailers, many of them new to the market.
Another center that opened in 1965 also is being renovated. Dal-Rich Village, anchored by Whole Foods Market, is undergoing a major renovation that will upgrade the center's appearance and amenities and increase tenant visibility and identification. The renovation of the center, which incorporates 161,925 square feet of retail and office space, will be complete in early 2007.
The Crossing at Telfair will offer more than 700,000 square feet of office, medical, retail, restaurant and hospitality at the southwest corner of Highway 6 and Highway 90 in Sugar Land, Texas.

Jacob: In Houston we also are seeing a lot of mixed-use developments, which stems from Houston's suburban growth. The Woodlands Town Center development, the Promenade Shops at the Spectrum in Pearland and The Crossing at Telfair will benefit their communities by providing easy access to important local services and facilities.

Also, mixed-use projects are very attractive to investors and tenants. Our most recent development, The Crossing at Telfair, is casting a new lifestyle center mold for future retail development in the Houston area. Telfair will offer investors, tenants and residents more than 700,000 square feet of office, medical, retail, restaurant and hospitality at the southwest corner of Highway 6 and Highway 90 in Sugar Land.

Goldstein: Though there is a slow down in traditional grocery stores because food retailers like Kroger almost have the market covered, specialty marketers like Whole Foods are announcing new stores and HEB is developing impressive larger prototypes.

The drug stores and supercenter retailers, like Wal-Mart and Target, are also expanding at a lower rate because of an almost complete saturation of market coverage. There is, however, a surge in lifestyle and town center developments and even a couple projects that will be hybrid regional mall concepts.

Tarantino: The trends we are presently seeing in retail development in Houston is among the growth that is taking place in the suburban submarkets with retailers like Wal-Mart, Target, The Home Depot, and HEB. While the emphasis is on these major retailers and the large lifestyle centers, the neighborhood centers are also undergoing much development and attracting demand as well.

Page: Several lifestyle and mixed-use projects are planned or under construction in both suburban and infill locations. Power and grocery-anchored centers being built at the outer edges of residential growth.

Roberts: Big box centers will continue to be well received by consumers along Loop 1604 on the north side of San Antonio. Lifestyle and mixed-use developments like The Rim, Shops at LaCantera and the Central Park redevelopment will be huge hits with retailers. A "head scratching" amount of retail will be built along 1604 from Interstates 35 to 90 to support the population growth and demographic shifts.

TREB: Where is the majority of development taking place?

Watson: The majority of retail development seems to be on the outskirts of major cities and small towns. This is where the greater part of new housing is going in and, as the markets have shown, population is a critical driver of retail interest. The Austin MSA housing market, especially along the I-130 corridor is thriving; San Antonio, especially in the Northwest outside Loop 1604, is seeing enormous amounts of new growth to meet tenant and consumer demand; Dallas/Fort Worth is experiencing a great amount of housing growth in Northern Collin County and Garland, but also in infill locations downtown with mixed-use and lifestyle developments. The new growth areas referenced above are experiencing the greatest amounts of development. The larger MSA's including Dallas/Fort Worth, Houston, Austin and San Antonio, plus the Rio Grande Valley area, are very active.

DeJernett: Every area of Austin and the surrounding MSA are experiencing high levels of growth based on a strong underlying economy. Economic growth is creating new jobs supporting development in all sectors of the Central Texas market and will continue to do so into the near future. It is interesting to note that Austin's challenging traffic is fostering new infill and transit-oriented development while new roads and tollways are supporting suburban expansion.

Hernandez: Developments are taking place throughout the Metroplex. We previously mentioned the inner-city redevelopment projects underway. The most visible projects seem to take place in the suburb markets ranging from the Rockwall market; the McKinney/Allen market; Frisco and north of Frisco; Denton; Alliance north of Fort Worth; Mansfield; Cedar Hill; South Arlington; and the list continues on to just about every market in the Metroplex. The areas with the most development would be the Allen/McKinney/I-75 Corridor as well as the Alliance (N I-35) Corridor.

Tarantino: Our radar is showing the majority of new development for multi-tenant retail taking place in Far West Houston (I-10 West, Katy, Memorial) with approximately 1.9 million square feet currently under construction; Far Southwest (Sugar Land, Richmond, Stafford, Rosenberg) with approximately 1.85 million square feet under construction; Far North (Woodlands) with approximately 1.08 million square feet under construction; and the Northeast (Kingwood, Humble) having approximately 1.05 million square feet under construction.

Roberts: Most of the development in San Antonio is following the residential growth in the north and northwest areas of the city.

Big box/value stores are leading development in San Antonio. Development is driven by the continued demand for space in growing areas — expanding retailers like Best Buy and JC Penney play a large part in pre-leasing new centers as they compete for prime locations along 1604 from IH-35 to Potranco.

TREB: Are there any major retail projects underway or planned?

Watson: Archon Group is currently working on two major developments in Texas. Alamo Ranch Marketplace is a 900,000-square-foot power center located at the southwest quadrant of the intersection of Culebra Road and Loop 1604 in San Antonio. It is scheduled to start sitework in the fourth quarter of this year and open March 2008 to the public. Prestonwood Town Center is a 260,000-square-foot center shadow anchored by Wal-Mart SuperCenter. The center is located at the Northeast corner of Beltline Road and Montfort Drive in Dallas. It is the former site of Prestonwood Mall and is currently under construction and scheduled to open this month.

Eisenberg: There are many retail projects that have been recently announced. By year-end 2006, completions are expected to hit 658,000 square feet, a 3.5 percent increase in the total retail inventory according to REIS. But, some projects that were announced within the last six months to a year are already being re-traded or are not going to be constructed.

A development of Endeavor Real Estate Group, 1890 Ranch is 90-acre project in Cedar Park that will be constructed in two phases. It is located along Highway 183 A and will open in 2007.

Simon Properties Group will develop The Shops at Arbor Walk. The project, which is scheduled to open this November, will span approximately 639,000 square feet. The property is located on MoPac (Loop 1) just north of Hwy 183/Research Blvd.

Simon Properties Group will also construct The Domain, an 833,000-square-foot lifestyle center located on MoPac, north of Braker Lane.

Weitzman: Dallas/Fort Worth is seeing an active construction market. New projects include Southlake Town Square's major expansion, which brought the mixed-use lifestyle retail project to a total of 1 million square feet. The expansion added concepts such as Barnes & Noble, Ann Taylor Loft, J. Crew, a Harkins movie theater and more. Shops of Southlake, a Central Market-anchored specialty center, is under construction directly across the street from Southlake Town Square. Shops of Southlake will total 270,000 square feet upon completion, with the first phase opening in late 2006. Victory, which is at the edge of downtown Dallas, adjacent to the West End Historic District, recently opened to great fanfare. The hotel is home to upscale restaurants like Craft and the first Texas location of Las Vegas-based Ghostbar. Victory's 175,000 square feet of retail is set to open this year with a number of upscale restaurants, taverns and specialty sandwich shops. Victory is anchored by the American Airlines Center arena.

Projects underway for 2007 or 2008 openings include Pinnacle Pointe, a project with Conn's Electronics and Staples at the intersection of I-30 and Cockrell Hill Road. The 100,000-square-foot project should open in early 2007. Also planned is the expansion of Lincoln Square, a lifestyle center located at I-30 and Collins in Arlington. The 130,000-square-foot expansion, which will add LA Fitness and additional retail, is set to open in early 2007. Uptown Village at Cedar Hill is a regional project with Dillard's and Barnes & Noble, which recently broke ground at FM 1382 and Pleasant Run and Cedar Hill roads in Cedar Hill. The 800,000-square-foot project is set for a 2008 opening.

Goldstein: There certainly are major projects here in Houston. If we just take Pearland, which is south of Houston's Medical Center and a favorite place for its employees to live, there are three massive projects happening.

The Shadow Creek Ranch Town Center, a 600,000-square-foot open-air retail center will be located at the northwest corner of Highway 288 and FM 518. It is near the 3,500-acre Shadow Creek Ranch master-planned community. Pearland Town Center will be a 700,000-square-foot shopping mall at the southwest corner of Highway 288 and FM 518. Macy's and Dillard's department stores are already on board. The Promenade Shops at The Spectrum, a large lifestyle center is going up less than three miles away at Highway 288 and Beltway 8. Bass Pro Shops will anchor that center, which will have 700,000 square feet to 800,000 square feet of retail space.

In Katy, at the northeast corner of Grand Parkway and I-10, the Grand Promenade, a 300,000-square-foot lifestyle center next to an existing J.C. Penney's, will be the predecessor to the Grand, an upscale hybrid mall with multiple anchors.

Roberts: New projects in San Antonio include Hill Country Plaza, a 342,000-square-foot center at northeast corner of Loop 410 and NW Military, and The Fountains at Live Oak, an 850,000-square-foot center planned at the northwest corner of Loop 1604 and IH-35.

TREB: What is the retail lending climate in your area and how does it compare with the other Texas markets? Nationally?

Gardaphe: Currently, there is an over-abundance of capital for quality retail investments. Key components for retail developers to enter a market include job growth, population growth and residential development. Texas has all three of these components. In addition, the strong energy market, pro-business climate and in migration, will ensure that these trends continue. Therefore, retail development will persist and the capital markets will accommodate for it with high leverage and low margins.

The national retail scene has a more cautious atmosphere than that of the Texas market. The consumers have carried the national expansions as far as they could. In markets where there is a high cost of living, compounded by increasing gas prices, rising interest rates and little to no job expansion, lenders will be forced to restrain retail lending. The deals are going to have to be in premier locations with a good tenant base before lenders will get aggressive.

Lemos: Austin continues to grow at a faster rate than any Texas market and within the top five nationally. As a result, the retail sector has experienced a very long and healthy run. We have seen cap rates continue to reside in the 6 to 7 percent range, which, coupled with high triple net rents, have resulted in historically high sales prices in excess of $325 per square foot. Lending has been brisk on refinance and acquisition finance retail properties in Austin, although some lender push back occurs due to the relatively high loan per square foot when compare to other Texas markets.

Van Arsdale: Because Houston has experienced some of the nation's strongest job and population growth during the past few years, developers here have been building new retail centers and rehabilitating older ones. The lending community has been very aggressive in funding retail center projects in the Houston market, which is one of the strongest performing sectors in Texas.

Jackson: The retail lending climate in the North Texas area is excellent. We provide debt and equity for all classes of retail — strip centers, grocery-anchored centers, big box centers, lifestyle centers and malls. There has been an increased emphasis on lifestyle centers, which provide a mix of traditional retail as well as office, residential and entertainment uses. Texas as a whole is doing very well. Job growth continues to be very positive, which is the major driver of retail growth.

TREB: What type of retail projects, properties or retailers are lenders interested in?

Gardaphe: The Class A quality grocery-anchored retail centers are always in the middle of lender's targets. Mixed-use lifestyle centers are increasingly becoming very popular as well. The developers that can create a sense of place for the shoppers are attracting national tenants. Trademark Property Co., which is headquartered in Fort Worth, has been very successful in creating a community for shoppers to do an array of activities at one central location. National lenders are attracted to retail centers that make sense for the local market. iCap Texas has been involved in just about every type of retail center in recent years.

Lemos: Life company lenders continue with their traditional focus on anchored retail. Credit transactions involving new Walgreen's and CVS/pharmacy drugstores are quite common. Conduit lenders remain quite willing to finance un-anchored strip retail centers with up to 80 percent LTV ratios with a good, varied mix of local and regional tenants.

Van Arsdale: Lenders are actively seeking to fund all types of retail centers. BMC Capital's focus is on the small loan sector. We fund large numbers of loans in the $1 million to $7 million range. This segment typically includes un-anchored and neighborhood retail centers ranging from 5,000 to 50,000 net rentable square feet. We have a variety of loan products that be customized to meet a client's financing needs.

TREB: What do you see in the near future for the Texas retail market?

DeJernett: The retail market will continue to be strong. Location and co-tenancy will become more important as significant new projects come on line. Older projects will see a notable increase in their vacancy numbers as tenants migrate to newer product. Every submarket will need to be careful not to overbuild. While this is by no means a tenant market, in the next 12 to 18 months we could see landlords becoming a bit more aggressive to attract key tenants.

Eisenberg: Much of the new retail development has been attributed to the expansion by large-format retailers such as Wal-Mart, Target and The Home Depot. All big box users are positioning for newer areas and are all clustering in same general larger regional or power centers. Many new retailers are entering the market, especially restaurants and service-type tenants.

Hernandez: As far as the near future, the retail market seems to be on a steady increase. There are plenty of developments underway and plenty of strong developments anchored by good national anchors and very good residential growth markets. The immediate future during the next couple of years seems pretty good.

Weitzman: Based on the level of activity in the first half of 2006, the remainder of the year should continue to operate full steam ahead, thanks to retailer demand and a growing economy. The outlook is equally strong throughout 2007.

Jacob: The Houston region is the energy capital of the world and home to more than 5.3 million people, and because of a strong economy that number continues to grow every day. As we grow in population, we will continue to expand, and the retail market in Houston will continue to flourish.

Goldstein: Houston is seeing positive trends as a result of job and population growth as well as retailers seeking to increase their market coverage and new retailers looking for dwindling growth markets in the national economic front. The markets that are growing will continue to grow since Houston has such an availability of suburban land and few natural barriers to expansion.

City infill development will also continue as long as mixed use developments can succeed because land cost has made traditional single story retail development cost prohibitive in prime locations.

Collins: I don't see any end to the retail demand right now. I thought 2 to 3 years ago that it would have slowed by now, but the retail is still going strong. Until that housing market stops, the retail won't stop. As long as the influx of people coming into the major metropolitan areas continues, I don't think we'll see any slowing of the retail market.

Watson: Continued population growth will support increasing retail sales and motivations for the retailers to open more units. High big box retailer penetration in many markets may dampen power center development. The result may be the evolution of the power center concept to a more hybrid center concept placing junior box, lifestyle and neighborhood retailers in the same project. Sales will continue to grow at a rate exceeding the national average, which will be important to offset the continued increase in retailer occupancy costs driven by higher land and energy costs.

PEARLAND TOWN CENTER ADDS NEW RETAILERS TO TENANT ROSTER
More than 15 new retailers have signed on to join Pearland Town Center, a new 1.2 million-square-foot mixed-use development in Pearland, Texas. The pedestrian-friendly center is scheduled to open in 2008.

More than 15 new retailers are scheduled to join Pearland Town Center, a 1.2 million-square-foot mixed-use development of CBL & Associates Properties in Pearland, Texas. Among the new tenants for the center, which is located at FM 518 and Highway 288, are Chico's, White House|Black Market, Ann Taylor LOFT, American Eagle, 346 Brooks Brothers, Eddie Bauer, Finish Line, Hollister and Bed Bath & Beyond. The new tenants will join Dillard's, Macy's and Barnes & Noble in the 710,000 square feet of retail space that will be offered upon completion.

Pearland Town Center also will feature residential and office space as well as a hotel and gathering places that will include a covered pavilion. The pedestrian-friendly, open-air project is scheduled to begin construction during the fourth quarter of this year with a grand opening planned for 2008.

— Stephen O'Kane
BURK COLLINS PLANS TO OPEN VINEYARD VILLAGE IN EULESS, TEXAS
Burk Collins & Co. is developing Vineyard Village, a 400,000-square-foot power center in Euless, Texas. Construction is underway on the project, and completion is scheduled for next September.

Burk Collins & Co. is currently developing Vineyard Village, a retail power center in Euless, Texas. Vineyard Village will be a 400,000-square-foot power center featuring tenants such as Lowe's Home Improvement Warehouse, Ross Dress For Less, Bed Bath & Beyond, PetSmart, Staples, L.A. Fitness and Famous Footwear. The power center is currently 98 percent leased.

"The Euless market has been overlooked for some time," says Burk Collins, president of Burk Collins & Co. "But the growth has been so strong that there is a demand for retail now. We were one of the first ones there and it worked out well. Euless has been a hidden secret."

Construction has begun on Vineyard Village, which will be located at the southeast corner of Glade Road and State Highway 121. The center is scheduled to open during September of next year.

"We have been doing this for 35 years and we've developed a formula. If we want to put a project it, we just follow our formula. As long as we stick with that, we do really well."

— Stephen O'Kane
AUSTIN'S RETAIL MARKET GROWS WITH THREE NEW PROJECTS
Simon Property Group will develop The Shops at Arbor Walk and The Domain (above) in Austin during the next year. Together, the centers will bring approximately 150 acres of retail space to the city.

Austin,Texas-based Endeavor Real Estate Group will break ground this month on 1890 Ranch, a mixed-used project on 90 acres that is Cedar Park's first major regional retail center. The development will feature 800,000 square feet of retail, 100,000 square feet of office space, 50,000 square feet of restaurants and a 12-screen movie theater. 1890 Ranch, which used to be an actual cattle ranch, will be developed in two phases.

Phase I will develop 530,000 square feet of retail with an additional 100,000 square feet of office and medical office space. Phase II will construct 270,000 square feet of retail and is expected to start in the first quarter of 2007. Cinemark USA Inc. has signed a lease for a 12-screen movie theater; PetsMart plans to lease nearly 28,000 square feet; and Office Max is scheduled to lease 20,000 square feet.

Austin also will see two more centers being developed during the next year. Simon Properties Group will develop The Shops at Arbor Walk and The Domain, which will be located along MoPac (Loop 1). The two shopping centers will bring approximately 150 acres of retail space to Austin.

The Shops at Arbor Walk will be a 46-acre open-air development featuring Whole Foods, The Home Depot and other specialty shops. Located just across the street, The Domain will offer Neiman Marcus, Tiffany's and Macy's. In addition, more than 500 apartment units will be located above the retail stores. The shopping centers are set to open next year.

— Stephen O'Kane
PINNACLE POINTE TO OPEN IN DALLAS NEXT YEAR
A new mixed-use project featuring retail and industrial uses is scheduled to open next year in Dallas. Pinnacle Pointe, a development of Principal Financial Group and Holt Lunsford Commercial, will open in Dallas during the first quarter of next year. Pinnacle Pointe will span approximately 100,000 square feet and feature nine pad sites. Tenants currently planned for the center include Conn's Appliances and Electronics and Staples. IHOP will be occupying one of the pad sites.
The growing retail and residential in this area is what drove Principal Financial Group and Holt Lunsford Commercial to develop this center in Dallas. The construction of the interchange between Crocker Hill and Interstate 30 brought a whole new wave of retailers and consumers, and the joint venture decided to cater to the retail need in this area of Dallas.
— Stephen O'Kane
LEVCOR REDEVELOPS POST OAK PLAZA IN HOUSTON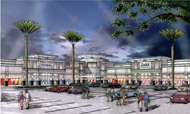 Levcor is redeveloping Post Oak Plaza, an 11.56-acre retail center located at the corner of Post Oak Boulevard and San Felipe in Houston.

Located at the corner of Post Oak Boulevard and San Felipe, Post Oak Plaza is one of many developments of Houston-based development company Levcor Inc.

"We were thinking of tearing it down and building a high-rise hotel and residential space," says Larry Levine, president of Levcor. "But we decided, in light of all the activity in Houston, to re-lease and look at it again in 5 years. We wanted to redevelop what we had and try to make it better."

Post Oak Plaza is situated on 11.56 acres in uptown Houston and currently includes tenants such as Pinto Ranch, Luby's Cafeteria, Linens 'n Things, Sprint, Zadok's Jewelry, California Pizza Kitchen and Larry's Shoes. Currently there are spaces available for lease in the 129,315-square-foot center that range from just under 1,000 square feet to more than 4,000 square feet.

With approximately one half a million people living within a 5-mile radius, it is no surprise that Post Oak Plaza is successful. "We've been in Houston for 35 years and we understand we high-end retail and we understand what it takes to make things work," says Levine. "One of our fortes is being able to take older projects and turn them into something nice."

— Stephen O'Kane
Hill-Granados Retail Partners to break ground on The Fountains at Live Oak this December
San Antonio-based Hill-Granados Retail Partners is scheduled to break ground this December on a new retail project in San Antonio. The Fountains at Live Oak will be an 850,000-square-foot center located at the northwest corner of Loop 1604 and Interstate 35 in Live Oak, Texas, positioned just northeast of San Antonio.
The large-scale project plans to include several fountains as well as other water features such as sprayscapes, and will also feature pastel colors. These amenities are what will separate this center from surrounding developments such as The Forum at Olympia Parkway, a 1 million-square-foot retail center located on the other side of I-35. Hill-Granados Retail Partners is attempting to give The Fountains at Live Oak a sense of place to distinguish itself from other projects in the area.
Construction is scheduled to begin in December on Phase I of the 129-acre project, and will develop 400,000 square feet of retail. Upon completion, the center will feature approximately 70 retailers, including eight anchor tenants.
— Stephen O'Kane


©2006 France Publications, Inc. Duplication or reproduction of this article not permitted without authorization from France Publications, Inc. For information on reprints of this article contact Barbara Sherer at (630) 554-6054.