FEATURE ARTICLE, SEPTEMBER 2010
HEALTHCARE REAL ESTATE SHOWS RESILIENCE
Industry leaders discussed the medical office sector at InterFace Dallas event.
Randall Shearin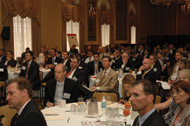 Attendees listen to one of the many panel discussions during InterFace's Dallas medical office conference.
Healthcare real estate has been one of the sectors that has held through the economy. Boosted by an aging population that needs specialty care and a real estate market that is allowing medical properties to expand, healthcare buildings have been part of some of the larger deals in the United States during the past two years.
InterFace Conference Group presented InterFace Medical Office last month at The Adolphus Hotel in Dallas to discuss and disseminate the latest on medical office buildings, which include hospitals, urgent care centers, outpatient care centers, doctors' offices and skilled care facilities.
One of the largest issues in front of the medical office sector is the healthcare reform bill. Changes that the bill could cause may reshape the landscape that the medical office industry has built and is building. The keynote speaker of InterFace Medical Office, Warren Skea, director of the health enterprise growth practice at PriceWaterhouseCoopers, made this the center of his talk. Skea noted at one point that "2010 to 2020 will be the decade of health reform."
His presentation discussed many of the impacts that the healthcare overhaul bill will have on medical real estate. Many of these are gains in square footage, no doubt due to the 32 million people who will gain insurance as a result of the bill. Under the new healthcare model, hospitals will no longer be revenue generators, but cost centers. "The change will significantly impact their thinking in building new infrastucture," Skea said.
While the medical property sector has a number of projects that have been under development for the past 2 years, there were more on the drawing board, according to a panel of public and private owners that occurred later in the day. The credit crisis has put many projects on hold, while the healthcare bill is causing many hospital systems to be very cautious about their decisions to expand as well as the types of facilities they build. For private developers, the concern is more focused on fewer doctors in private practice. Since a change in the Medicare rules earlier this year, one conference panelist estimated there will be 50 percent fewer cardiologists in private practice next year than in 2010. This is due to the increase in investment by hospital systems in cardiac care centers and research centers.
Even amid the uncertainty, this sector is incredibly healthy for development. Capital is readily available for REITs and private parties. Developers on the day's panels said they are mostly seeing financing available through community banks, and that deals must have 60 to 70 percent loan-to-value with strong pre-leasing. Life companies are also back in the market looking for MOB deals. "Medical office is a preferred product for buyers," said Al Pontius, managing director of the national office and industrial properties group for Marcus & Millichap. "Quality plays a large role in the price and structure of deals."
Michael Arvin, senior vice president and chief development officer of Dallas' Methodist Health System, believes health systems have weathered the recession well. With the impending health care bill, officials are trying to be prudent about expansion and are trying to develop more efficient facilities that have flexible layouts. Politics and the nation's high unemployment also are a factor in expansion plans.
Investment activity in the medical office sector is picking up. Scott Herbold, vice president of CB Richard Ellis' healthcare capital markets group, moderated a talk concerning this subject with panelists Phillip Mahler, managing director of Savills U.S.; Shane Seitz, vice president of investments for Nationwide Health Properties; and Brian Pieracci, senior vice president of Heitman. They all agreed there was a lot of chatter about cap rates compressing in the market, but some of them had not seen this happened and felt that there was a lot of interest in the market. "There are a lot of recycled deals coming to market," Mahler said. "Some that were sold in 2008 or '09 are coming back to the market because of the conditions."
Quality trades are at a premium; MOB facilities with hospital affiliations are much more desirable to investors than those without affiliations. Mahler addressed foreign capital's interest in medical office properties in the United States. He mentioned that while capital interest from Europe was steady, some deals were starting to flow from Asian and Australian sources.
"They're not interested in deals in smaller markets," he said of foreign capital. "They want major U.S. markets."

©2010 France Publications, Inc. Duplication or reproduction of this article not permitted without authorization from France Publications, Inc. For information on reprints of this article contact Barbara Sherer at (630) 554-6054.